HVAC Service
With HMC's factory trained technicians you have the most comprehensive way to handle your precision air conditioning maintenance requirements. From boilers to chillers to unitary equipment, HMC offers over 80 technicians and support staff for 24/7 Emergency Service and Scheduled Preventative Maintenance Programs, as well as:
BOILER SERVICES:
Combustion Analysis
Boiler Feed Pumps – Maintenance
Testing/Cleaning Lo-Water Cut Offs
Tub Cleaning and Replacement
All Safety and Regulator Testing
Opening/Closing Boilers for Inspection-Replacing Hand-hole, Man-hole, & Door Gaskets
Start-up/Check-out of Boiler Operation
Design Engineering Services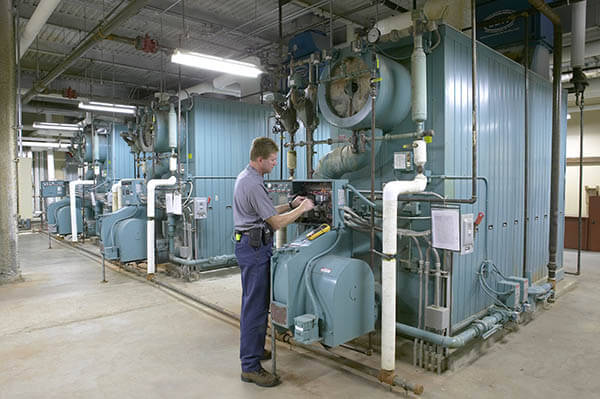 Energy Solutions
As a major operational expense and with the cost of energy continuously rising, it is becoming more important for building owners to look for energy savings that will improve the bottom line, while also making needed improvements in their facilities. On average, over 50% of a building's energy usage is driven by its heating and cooling system. For nearly 50 years, HMC has been a recognized leader in the design, construction and service of HVAC systems. Our team utilizes this expertise to help building owners and designers look for ways to reduce energy consumption, while improving comfort at the same time.
The HMC approach to creating and sustaining optimum building systems and environments is founded in our commitment to offering our clients the right systems and solutions that support their mission. We believe in leveraging our vast technical resources to developing and implementing the right solution, based on our clients' needs. Ultimately, our goal is to provide our clients increased productivity at the lowest total cost of ownership.